Upcoming Updates
CatCourses (Canvas) is receiving a number of improvements on July 18th, 2020. Below you will find brief overviews of each upgrade as well as links to guides and more information.
---
Assignment Attempts
By default, students are allowed an unlimited number of attempts to submit an assignment. In this update, instructors are able to limit the amount of times a student can upload a submission to an assignment. If an assignment has a limited number of allowed attempts students will see the number of attempts allowed and the number of times they have tried to submit.
Learn More:
---
Direct Share Assignments
Canvas Commons is a good way to share different types of course content but can be cumbersome when trying to quickly share assignments to other instructors. Assignments can now be shared to another instructor or copied to another of the instructor's courses directly from the Assignments page without having to go through Commons. This is found under the three vertical dots option next to each assignment.
Learn More:
---
Bulk Assignment Editing
It can be tricky to get assignment due dates correct when importing a course from a previous semester to an upcoming semester. Although the import tool allows instructors to shift all due dates at once, instructors then had to go and manually update the due dates of each assignment individually for any that needed adjustment. The Bulk Assignment Editing feature allows instructors to edit or enter due dates for all assignments at once.


Learn More:
Dashboard Display
The CatCourses Dashboard is being updated to quickly show instructors which courses are published and which are unpublished. This is also reflected within the Courses menu.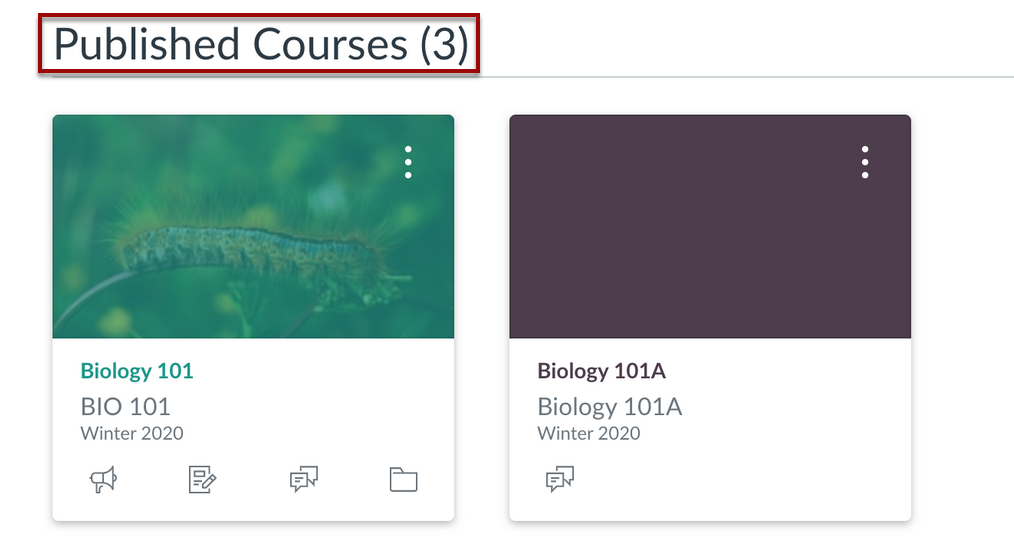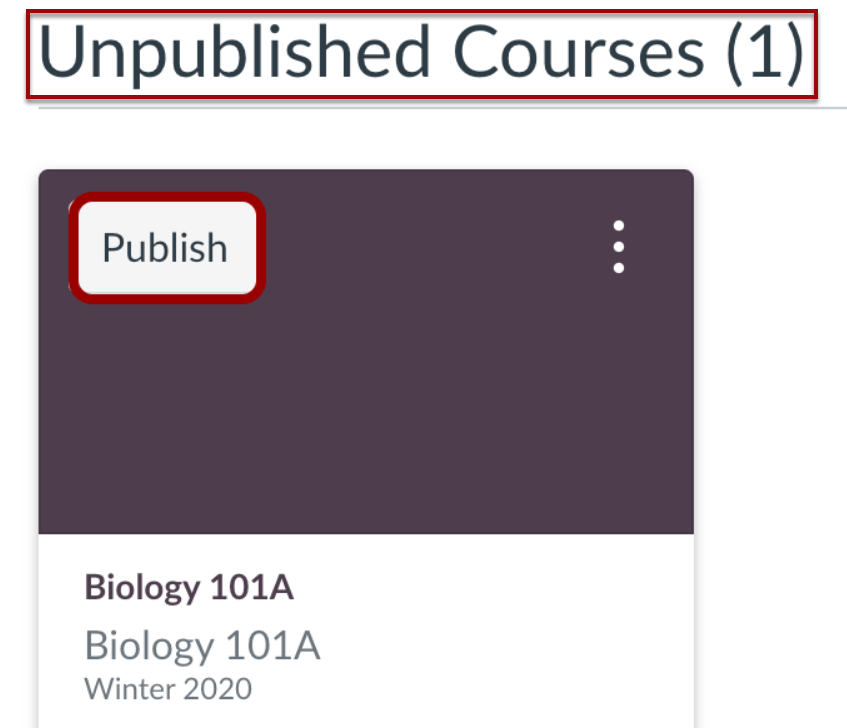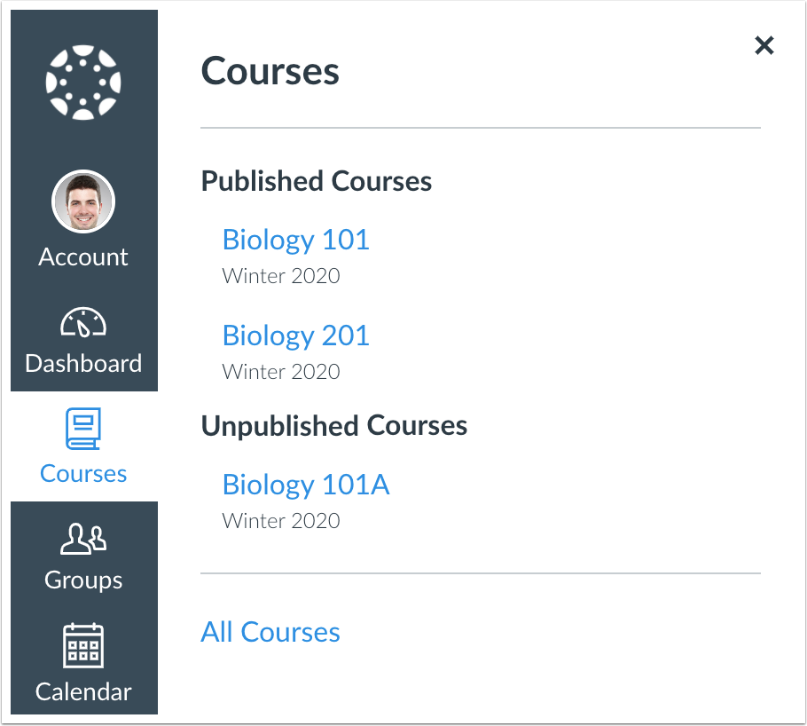 Notification Preferences by Course
Previously, any notification preferences made by instructors or students in their User Profile applied universally to all of their courses in CatCourses. In this update, instructors and students are able to mute notifications for individual courses. In an upcoming update, instructors and students will be able to change notification preferences per course. These setting can be found under "View Course Notifications" on the course homepage.
---
Rubrics and Outcomes Separation
Rubrics will now have it's own section in the course navigation to make it easier for instructors to find, add, and edit course rubrics. Outcomes will continue to reside in the Navigation menu, but the option to Manage Rubrics will no longer be found under the Outcomes section.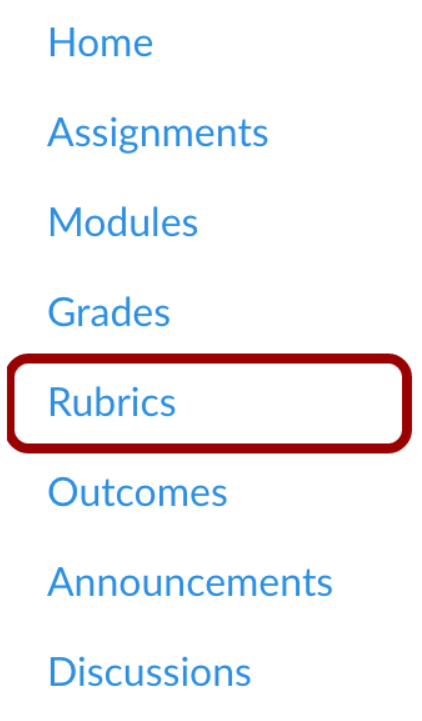 ---
LockDown Browser and New Quizzes
Instructors who are using New Quizzes will now be able to use Respondus LockDown Browser, which was previously only supported in Classic Quizzes.
Learn More:
---
Previous Updates
New Analytics (January 2020)
CatCourses has created a new analytics tool that allows instructors to track student data using an interactive chart or table. New Analytics allows instructors and TA to do the following:
Compare a student's grade with the rest of the class
Send messages to struggling students based on specific criteria
View the overall course grade
Select shapes or colors to be used in graphs for better visibility
Notable changes:
The graphs are more interactive and have more editing abilities
New Analytics is currently updating once every 24 hours. The vendor is investigated making the updates more frequent.
Student assignment status (indicates what is missing, late, or on time) is in development but not yet available.
Learn More:
---
o365 (Microsoft Office Online) Integration (January 2020)
o365 is a tool that may be enabled in any course to allow for greater integration between o365 (Microsoft Office Online) and CatCourses. Some much desired features of this integration include:
Student Collaboration in o365 allows multiple students to work on a single document at a time
Instructors can add o365 documents into Modules so students will see the document in CatCourses
Links to any o365 documents can be created via the Rich Content Editor for things like pages and assignments
Students can create and upload files directly from o365
Cloud assignments allow instructors to provide students with a copy of a document which the students can open, edit, save and submit as their own without affecting the other students' templates.  
Learn More (Instructors):
Learn More (Students):
---
Zoom Integration (January 2020)
Zoom is a web conferencing platform that can now also be enabled in any course to allow for video conferencing within CatCourses itself. Instructors and TAs need to first request a Zoom Pro account to hold Zoom meetings via our Zoom request form: Zoom - Web Conferencing. Students can join meetings without a Zoom account.
Ability to schedule Zoom meetings in CatCourses
Scheduled meetings are shown on the course calendar
Learn More: 
---
Navigation Toolbar (October 2019)
The Navigation toolbar is being updated to better meet accessibility needs. There are three changes to how the Navigation looks in courses:
The currently selected item will change from being white text surrounded by a blue box to black text with a horizontal line to the left-hand side of the text.
Items that are not visible to students will change from being greyed out text to being blue link text with a slashed eye icon to the right of the text.
Items that are visible to students will change from black text to blue link text.
For more information on all the navigation UI changes, please visit this link: Canvas Recent Releases - October 2019: Navigation.
---
Gradebook Post Policies Indicators (October 2019)
Instructure, our Canvas vendor, is updating the iconography related to Post Polices in response to feedback from instructors on the confusing iconography surrounding Post Polices in the Gradebook. These changes are intended to more clearly convey what grades are visible to students. 
If an instructor sets up an assignment to use a Manual Post Policy (in which grades are hidden from students until the set conditions are met), the word Manual will appear underneath the assignment title. If the assignment is set to the Automatic Post Policy (in which grades are visible to students immediately when entered), no text will appear underneath the assignment title.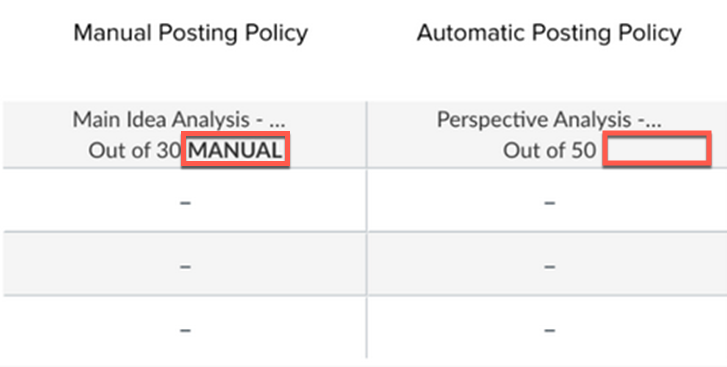 If an instructor has changed the Posting Policy to Manual for the assignment, additional icons are available to help identify the state of entered grades.
If one or more entered grades are hidden from students, a slashed eye icon will appear next to the assignment title. To get further detail on which grades are hidden, hit the three vertical dots (1) followed by Post Grades (2). The orange dots (3) indicate hidden grades. Grades that are visible will have no dot. The number of grades currently hidden is indicated in the detail tray (4). You can safely choose to Post Grades from this tray or Close it to return later.

For more information on changes to the Post Policies iconography, please visit this link: Canvas Recent Releases - October 2019: New Gradebook.
---
New GradeBook (May 2019)
Upgrade Highlights:
The new Grade Detail Tray allows instructors to assign grades, add comments, and set statuses from within the Gradebook.
Late policies can be set to automatically assign a 0 or a percentage of points can be removed for each day an assignment is late.
Statuses such as late, missing, and excused can be applied manually to individual student assignments as well as being automatically generated from online submissions.
Grades can be entered as points or percentages.
Cross-hair function makes it easy to see what cell is selected so you know you're entering the grade for the right student and assignment.
More options, customizations, and filters — sort students in multiple ways, apply filters to columns, or change default colors with a few clicks.
Notable Changes:  
The Mute Grades functionality has been replaced by Post Policies, which allows instructors to set course-wide policies for hiding grades, release grades to only specific sections, and more. Please see the New Gradebook Posting Policies FAQ below for details.
Some functionality, such as the Import/Export Grades button have moved. Take a look at "How do I use the New Gradebook?" below for an overview. 
Learn More: 
---
TurnItIn (May 2019)
Upgrade Highlights:
Ability to use TurnItIn with group assignments and peer review assignments.
Originality reports are generated for every file a student submits rather than just the most recent one.
Due dates set or modified in CatCourses will automatically be adjusted in TurnItIn.
Submissions and resubmissions can be changed in CatCourses rather than TurnItIn settings.
  Notable Changes: 
SpeedGrader is the best way to review, give feedback, and assign grades to assignments submitted to TurnItIn (PeerMark and TurnItIn Feedback are not supported in CatCourses).
Instructors can continue to view submissions and originality reports for assignments created with the previous TurnItIn LTI External Tool in CatCourses, but should not create any new assignments with the old TurnItIn LTI External Tool option. 
Learn More:
---
TurningPoint (May 2019)
Upgrade Highlights:
Conduct web polling that automatically pulls course roster information from CatCourses and can sync grades back without using the desktop program.
See results from polling in the TurningPoint web interface instead of only on the computer used to run the polling session.
Learn More: