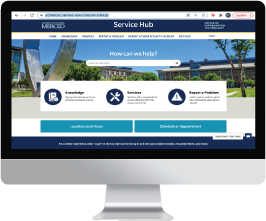 OIT is excited to announce the launch of the all-new Service Hub, a new web interface with a responsive search feature that makes it easier than ever to find exactly what you're looking for: services we provide, support we offer, how-to documentation, and more!
The following underlying services are now accessible through the new Service Hub:
Service Catalog
Knowledge (how-to documentation)
Report a Problem/Report a Cyber Security Threat
Get Help
Open Tickets
---
What's changing?

OIT Website
On the OIT front page, you'll notice that the following sections redirect to this page for user awareness:
Knowledge
Services
Get Help
To continue to the Service Hub to find these features, please click "Go to Service Hub" below. To skip this step in the future, you can click the Service Hub banner at the top of the OIT front page to go directly to the Service Hub.
---
Service Hub
When you arrive at the Service Hub, you'll notice a search bar right in the middle of the page. This is because the major change that the Service Hub represents is a new user interface which makes it easier to find solutions through the improved search capabilities.
The knowledge articles and services that you'll find with your search will look familiar as they remain largely the same, though they are now also mobile-friendly.
You can also click around in the Service Hub navigation to find all the services and support features you're looking for. Be sure to click "Login" in the top right corner to log in and see all your existing problem tickets, requested items, and more—right there on the front page.
---
Customer Feedback
Here's what our campus beta testers are saying about the new site:
"I LOVE how it shows my tickets at the bottom.  This is a great feature."
"I really like the new design.  It is clear and easy to use."
"I love the cleaner, streamlined look!"
---
FAQ
What can I expect with the new search functionality?
Search capabilities are enhanced in the Service Hub. 
Search results are displayed predictively
Search results are much more thorough
Search results provide more details so you have a better chance in finding what you need
OIT can better address services needs based on what people are searching for
Where can I find "General IT Request"?
OIT provides many services through our catalog, so we ask that you start at Services to see if your need can be accommodated through an existing service. Using Services helps OIT get the information we need to fulfill the request, and ticket assignment is assigned automatically to the fulfiller team, streamlining the process.
If you can't find what you need in Services, the General IT Request ticket can be located under "Get Help."
What other features can I expect? 
Print icon for knowledge (how-to) articles, which you can now print as a PDF file.

More ticket details on active tickets in ServiceNow

Breadcrumb navigation - find your way back to where you started

Card or Grid views for Services - change the display to make it easier to find what you need
Is there an easy URL I can use to get to the Service Hub?