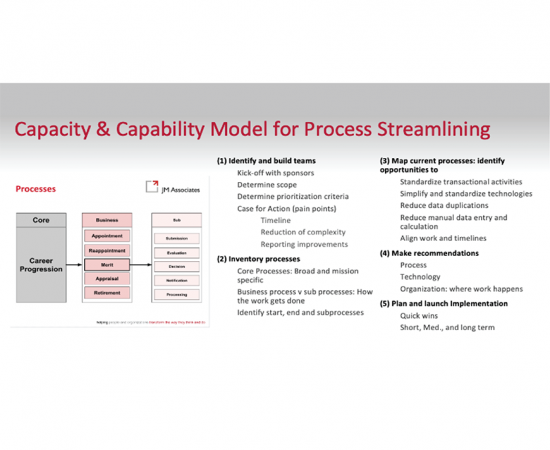 Technology applied to poorly designed process bites back, often by making processes more difficult or enabling inefficient processes to occur at a rapid speed and with increased errors. A recent Process Modernization pilot project launched in collaboration with the Academic Personnel Office demonstrated that not only can this be avoided through partnership, but that the work to thoughtfully streamline process workflows for better technology support can result in team building through shared problem-solving activities, cross-functional knowledge exchange, and deeper appreciation for the operational expertise that exists across campus.
The pilot project included process streamlining workshops facilitated by an OIT outside partner, JM Associates, and is based on a 5-step Capacity and Capability model (pictured above). Following an inventory of processes, the APO team selected two based on the immediate benefits gained by redesign: Summary Compensation and Merit & Promotion. The work begins with a Case for Action, proceeds through several process mapping reviews, and in both cases, resulted in prioritized recommendations for short-, medium-, and long-term activities, as well as quick wins for immediate actions.
This approach provides OIT a valuable and deep understanding of unit needs, allowing us to plan to consolidate technology systems, design, and implement enhancements and new features, and migrate from legacy solution and standards to modern platforms. In this way, and together with campus partners, we can align people, process, and technology - in the order of most importance. An additional benefit of this pilot was that key decisions are made by staff who deliver services directly, with input from beneficiaries. As a a result, all participants were actively engaged in driving a culture change that has delivered operational workforce excellence for all.
Team Comments
"Most rewarding was really seeing the entire process in print and understanding the flow of process."
"Being heard regarding the need for a more streamlined process and transparency across the board."
"I really took to heart that I should be more confident in my contributions."
"I have a better understanding and appreciation for the challenges everyone is experiencing."
"I see that we have processes in place that are created just to get the job done. I think if we make it a point to discuss these things, we can avoid this in the future."
"There were many aspects that I didn't even take into consideration prior to this workgroup."
---
5 Quick Wins for Summer Compensation
Enhanced APO Summer Salary Worksheet and Workflow
Shared, Enhanced Tracking Spreadsheet

Regular Meetings

between APO and School Staff

Minor Error Corrections in APO
Consistent, More Automated School Call Processes
---
Technology Recommendations for Summer Compensation
SHORT TERM
Automate APO's annual summer salary calculations

Enhance the APO form Schools use for submission 

Consolidate multiple APO tracking spreadsheets and create shared APO-

Establish a simple approval approach

Upgrade APWorkflow to automate calculations, 

Enhance Box processes to automate workflow
MID-TERM
Automate "email detours" outside GLAAS workflows

Auto-populate GLAAS with APO's annual summer salary calculations

Establish a standard approval approach –

Create (additional) mandatory, validated, and pre-populated fields in GLAAS

Integrate systems (e.g., AP Recruit-GLAAS for Lecturer appointments, GLAAS-UCPath for APW submissions)
LONG TERM
Integrating from initial planning, configuration, and School calls through payment submission, revisions, and reporting

Automated workflow with predefined routing and online approvals

Common, integrated interface across all three processes for staff, leaders, and beneficiaries to interact

Dashboard for staff, leaders, and beneficiaries to view, approve, and monitor status

Real-time, cross-process integration to view, calculate, and monitor 3/9 limits for staff and beneficiaries

End-to-end status tracking with notifications at key milestones – and audit trails.

Automate annual summer comp calculations

Automated correspondence generation

Standard, shared document storage, archiving, and access

Robust reporting and data export capabilities

Enterprise-level authentication and role and organizational level access granting

Integration or interfacing with relevant systems (e.g., AP Recruit, UCPath, etc.
Executive Sponsors
Ann Kovalchick, CIO, OIT

Teenie Matlock, Vice Provost, Academic Personnel
Project Sponsors
Kelly Anders, Assistant Vice Provost, Academic Personnel Office (APO)

Nick Dugan, Deputy CIO, Office of Information Technology (OIT)
Process Owners
Summer Compensation

: Julie Rolfe, Academic Personnel Analyst, APO and Kim Yanogacio, Academic Personnel Analyst, APO

Merit and Promotion

: Liz Soria, Senior Academic Personnel Analyst, APO
Advisory Members and Team Participants
Pam Moody, Senior Academic Personnel Analyst, APO

Becky Smith, Assistant Dean, Personnel, SSHA

Amanda Khamo, Senior Academic Personnel Analyst, SSHA

Holly Werner, Financial Analyst, School of Social Sciences, Humanities, and Arts (SSHA)

Vanessa Woodruff, Academic Personnel Specialist, School of Social Sciences, Humanities, and Arts (SSHA)

Dora Lopes, Personnel Director, SNS

Josephine Vang, Senior Personnel Analyst, SNS

Natalie Hibdon, Academic Personnel Specialist, School of Natural Sciences (SNS)

Karina Villegas, Business Services Manager, School of Natural Sciences (SNS)

Tomiko Hale, Director of Personnel Services, SOE

Roseanna Barron, Executive Assistant Dean & Chief of Staff, Personnel, SOE

Jamie Knutson, Director of Finance & Administration, School of Engineering (SoE)

Suzat Karim, Technology Lead, Office of Information Technology (OIT)

Ashu Guru, Applications Programmer, OIT