BEFORE YOU BEGIN:
This guide is for people who already have an existing LastPass account and wish to convert it to a UC Merced-sponsored Premium account. If you do not have a LastPass account, follow the steps outlined here.
If your existing LastPass account is a premium account follow these steps to cancel your subscription before converting.
If your existing LastPass account is a Family account follow these steps to exit the plan before converting, (LastPass Premium & Family are different, look at the differences before choosing to convert.
Note: You must use a personal, non-UCMerced email address for your LastPass Premium account. If you already have a LastPass account under your @UCMerced.edu email address, you need to change it to a non-UCMerced email address. Follow these instructions from LastPass to do so.  
---

---
1. Visit the LastPass UC Merced Partner Page
Using mobile or desktop, navigate to the LastPass UC Merced Partner page at ucm.edu/LastPassEnrollment (https://lastpass.com/partnerpremium/ucmerced).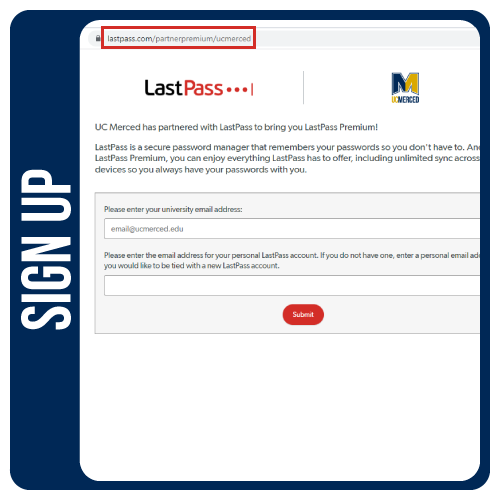 ---
2. Enter Your Information
Enter your @ucmerced.edu email address and the personal email address you will use to access your new LastPass account, then select Submit. You'll be directed to a confirmation page.
Note: Personal email accounts are required to ensure that you can access your LastPass account if you leave UC Merced.
---
3. Click "Create My Account"
LastPass will send an email to your @UCMerced.edu address with the subject line "Your UC Merced LastPass Premium Account." Open it and click the "Create my account" link.
Note: It may take the email a few minutes to arrive. If you don't see the email, check your SPAM or junk folder.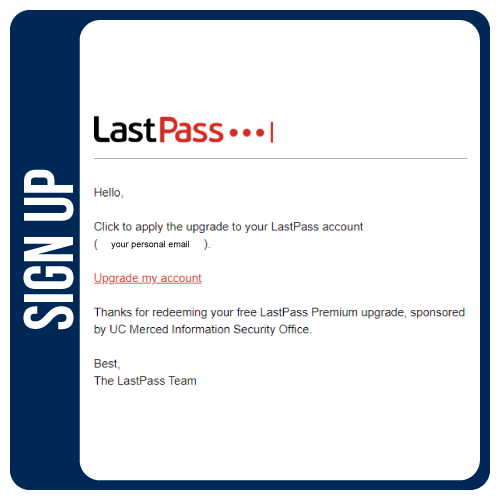 ---
4. Log Into LastPass
Click "Log In" on the LastPass landing page, enter your LastPass email address and primary password, then click the red LOG IN bar. You will be directed to the Premium redemption page.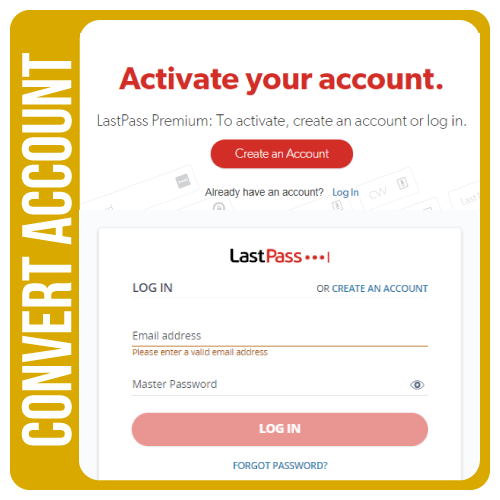 ---
5. Redeem LastPass Premium
Verify your information, including your personal email address, then click Confirm.
Note: This is your last chance to choose which account gets LastPass Premium, so be sure to verify your information carefully!
---
6. Use your UC Merced-sponsored LastPass Premium
Upon successful completion, you will see a prompt to install a browser plug-in and log in to LastPass. Continue to use LastPass to create and store strong, secure passwords for all your accounts.
Check out our FAQ page for general information about LastPass, and LastPass Support for more detailed information.