BEFORE YOU BEGIN:
This guide is for people who do NOT have an existing LastPass account. If you already have a LastPass account, follow the steps outlined here.
Note: You must use a personal, non-UCMerced email address to create your LastPass Premium account. This ensures that you can still use your LastPass account if you leave UC Merced. 
---

---
1. Visit the LastPass UC Merced Partner Page
Using mobile or desktop, navigate to the LastPass UC Merced Partner page at ucm.edu/LastPassEnrollment (https://lastpass.com/partnerpremium/ucmerced). 
---
2. Enter Your Information
Enter your @ucmerced.edu email address and the personal email address you will use to access your new LastPass account, then select Submit. You'll be directed to a confirmation page.
Note: Personal email accounts are required to ensure that you can access your LastPass account if you leave UC Merced.
---
3. Click "Create My Account"
LastPass will send an email to your @UCMerced.edu address with the subject line "Your UC Merced LastPass Premium Account." Open it and click the "Create my account" link.
Note: It may take the email a few minutes to arrive. If you don't see the email, check your SPAM or junk folder.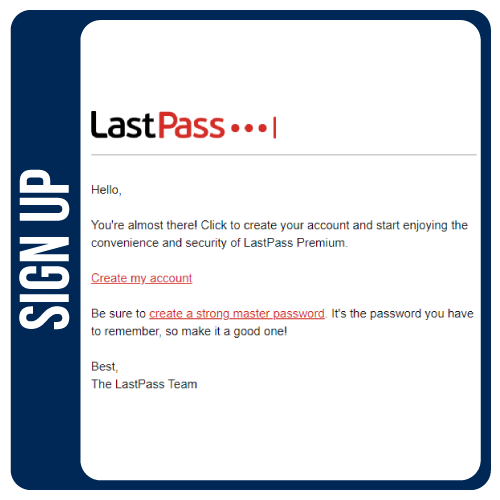 ---
4. Begin Account Creation
Enter your personal (non-UC Merced) email address into the top field and create your Primary Password.
This password must meet or exceed the LastPass Minimum Security Standards Passphrase Requirements.
- At least 20 characters long 
- Not your email address 
- Not your UCMerced password 
- Not easily guessable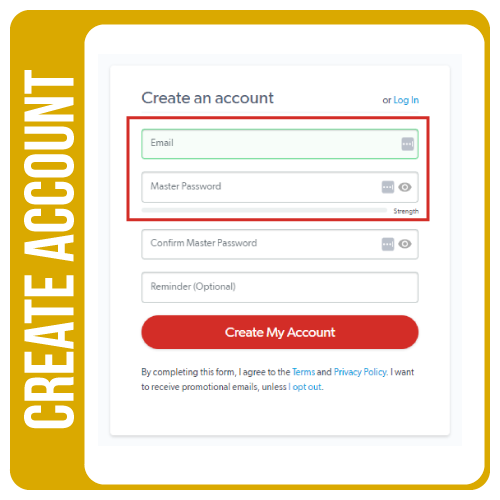 ---
5. Confirm Your Information
Confirm your Primary password, add the optional password reminder, and click the Create My Account button.
IMPORTANT:  We STRONGLY encourage you to create a reminder or hint for yourself in case you forget your Primary Password. Neither UC Merced nor LastPass can reset a forgotten Primary Password!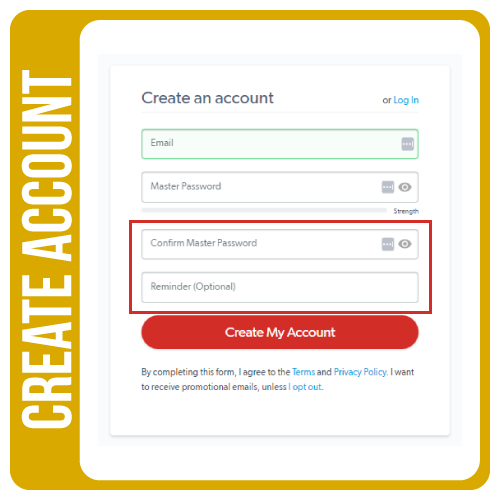 ---
6. Start Using LastPass
After you have created your account, you will see a prompt to install a browser plug-in and log in to LastPass.
Check out our FAQ page for general information about LastPass, and LastPass Support for more detailed information.