If Possible, Push is Easiest
Installing the Duo app on your smartphone and setting your preferences to receive Push notifications is the easiest way to authenticate with 2-Factor Authentication. After you log in using your UCMNetID and password, the app will alert you to a Push notification waiting in your app. All you need to do is to tap on that notification, approve, and you're done! 
Please note that it is important that you keep your DUO mobile app up to date to maintain key functionality. We recommend that you enable auto-updates for the DUO app. 
---
Enroll More Than One Device
Yes, you can (and should!) enroll in multiple devices. We recommend enrolling every device you can and trying using them all to see what feels most comfortable for you. 
First time enrolling? Follow these instructions:
Mobile Phone      |      Tablet      |      VoIP Phone/Landline      |      U2F Key
Already enrolled, but want to add more devices? See Add Another Device.
---
Have Your Backup Passcodes Ready
What if you leave your phone at home? If you think ahead and have backup passcodes ready, it won't be a problem. We recommend requesting backup passcodes and storing them in a secure location as soon as you set up 2-Factor Authentication.
Note: Because backup passcodes are sent via text, this option is only available to users who have a mobile phone enabled. 
---
Remember Me for 14 Days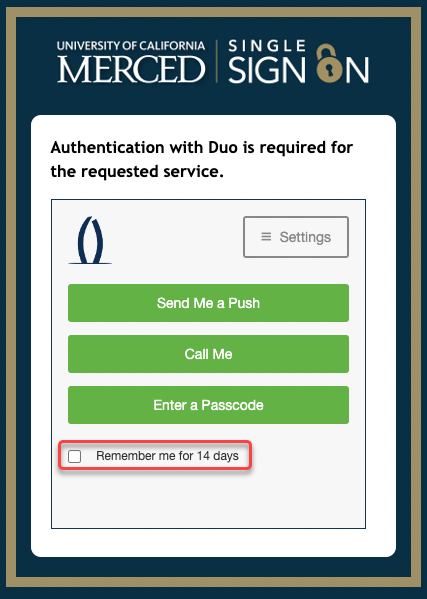 If you find that you have to authenticate multiple times per day, you can ask 2FA to remember you for 14 days. When prompted to authenticate, check the "Remember Me for 14 Days" checkbox before you complete your authentication. (You may need to Cancel the automatic authentication, click Remember Me, and then authenticate as normal).
Remember Me is a web browser cookie, so it applies only to the computer and browser you are currently working in —if you check the box on your computer, you'll still need to authenticate via Duo if you log in on your home computer within those 14 days. You can check Remember Me on any computer you use regularly and trust.
Important: Don't click Remember Me on a public or shared computer!